The village of Kokkino Nero is located on the eastern side of the mountain Ossa (Kissavos). You can arrive here with the following routes:

From Thessaloniki: via the national road Thessaloniki - Athens once you get to the bridge of Tempi, turn left towards Omolio - Stomio - Karitsa. From Karitsa, Kokkino nero is about 9 klm away.

From Athens: via the national road Athens - Thessaloniki, at the detour of Larissa you take the second exit (to Agia). You will encounter Agia after 23 klms, and you will continue towards Agiokampos (distance 13 klm). From Agiokampos you will head towards Velika and after a distance of about 15 klm on Kissavos Mountain with a view of the Aegean Sea you will arrive at Kokkino nero.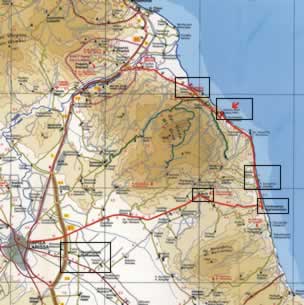 See the routes map